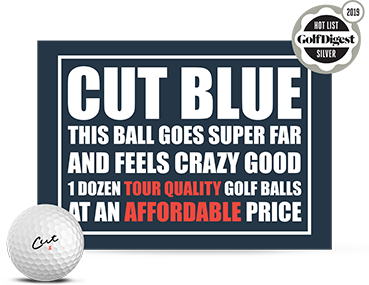 CUT BLUE FEATURES
NEW AND IMPROVED URETHANE COVER
4 PIECE CONSTRUCTION
SOFT FEEL
314 DIMPLE PATTERN
USGA CONFORMING
100% SATISFACTION GUARANTEE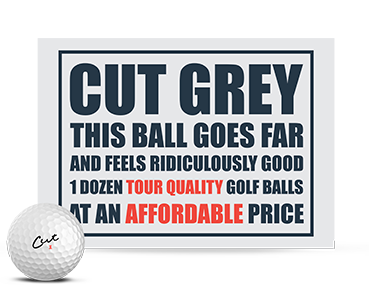 CUT GREY FEATURES
NEW AND IMPROVED URETHANE COVER
3 PIECE CONSTRUCTION
SOFTER FEEL
314 DIMPLE PATTERN
USGA CONFORMING
100% SATISFACTION GUARANTEE
HOW WE STACK UP
Our Cut Blue and Grey were engineered to maximize initial velocity leading to distance gains, utilizing a softer compression core to minimize long game spin. HOW IT'S BUILT
Cut Blue & Grey are our marquee balls and we take pride in the improvements we have made to the materials, design and overall quality of the 2019 version of this ball. The 2019 versions of Cut Blue & Grey were designed to deliver optimal distance, lower ball flight and improved green side control.


URETHANE COVER

The new and improved urethane cover is the final component that gives Cut Blue and Cut Grey its tour feel. Think soft, think pure, think about hitting and feeling the best shot of your life.

MANTLE

The unsung hero in improving distance and enhancing feel and spin.

SECOND MANTLE

The addition of a second mantle found in Cut Blue is crucial for elite performance. This mantle enhances the ball flight and spin coming into and around greens. Think perfect trajectory with incredible control.

CORE

We stay true to our core. This one was developed for a crazy soft feel and superhero distance. We keep it simple here: four layers of goodness at an unbeatable price.
HERE'S WHAT OUR CUSTOMERS ARE SAYING...
Just started hitting the Cut Blue. Wow what a great ball. Been hitting the AVX and the Chrome Soft. The Cut Blue flies off all of clubs. Great Distance and good feel around the greens. My new go to ball.
- Mike R.
Not a better ball out there for the money. Distance, control...and great spin around the greens. Keep it up!
- Brett H.
I chose the grey ball for soft feel and distance. This ball has great feel around the greens , it's cover takes the pounding and you'll be very pleased at how the cover holds up. The grey ball really flies , you'll enjoy the confident feel at contact off the tee.
- Hector G.