CUT BLUE
2019 AND 2018 GOLF DIGEST HOT LIST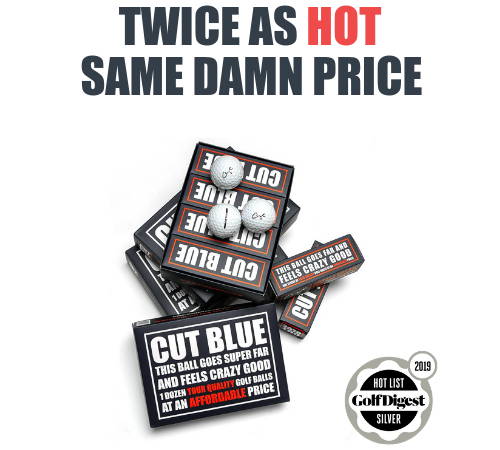 STOCK UP ON
THE BEST DAMN BALLS UNDER 20 BUCKS
CUT BLUE
$19.95 / DOZEN
$6.50 / TRIAL SLEEVE
We are thrilled to announce that Cut Golf has been named to the 2019 Golf Digest Hot List, again. Cut Blue has been awarded a silver badge for the second year in a row.

We take pride in the improvements we have made to the materials, design, and overall quality of the 2019 version of the Cut Blue, which was designed to deliver optimal distance with woods and irons, higher ball flight, and improved green-side control.

Our newly formulated urethane cover has a softer feel and features a 314-dimple pattern. Our new dimple pattern was designed to minimize drag, resulting in a consistent ball flight in all playing conditions. We improved the urethane finish and graphics, so the ball is more visually pleasing. Stock up for the season!
ALSO AVAILABLE
CUT MATTE
Fun colors, serious performance.
CUT MATTE WHITE
$19.95 / DOZEN
$6.50 / TRIAL SLEEVE
CUT MATTE PINK
$19.95 / DOZEN
$6.50 / TRIAL SLEEVE
CUT MATTE YELLOW
$19.95 / DOZEN
$6.50 / TRIAL SLEEVE
CUT MATTE ORANGE
$19.95 / DOZEN
$6.50 / TRIAL SLEEVE